Volvo Cars of Marietta

Atlanta Area
Atlanta Drivers Can Elevate their Ride with a Brand-New Volvo
Atlanta drivers who want to ride in style with an excellent vehicle need to look no further than Volvo. Volvo has always been an iconic provider, and the latest round of Volvo vehicles such as the Volvo XC40, Volvo XC60, Volvo XC90, Volvo S60, and the Volvo S90 are here to make a statement. Our dealership here at Volvo Cars of Marietta is committed to not only delivering elite Volvo rides but to provide a memorable car buying experience that makes us worth the trip.
The reputation of Volvo stands alone when compared to rivals. Its class-leading safety is unmatched, while its combination of style, luxury, and power places itself at the pinnacle. Volvo sedans and SUVs can find broad appeal in the luxury market for Atlanta drivers.
Ask Us A Question
* Indicates a required field
The Volvo XC40
The Volvo XC40 is the smallest of the Volvo SUV lineup, but that doesn't mean it lacks premium space and a powerful engine. Smart storage features are filtered throughout the interior, as foldout hooks, car holder slots, hidden compartments, wastebaskets, and bins are thoughtfully placed. With a large cargo area of 47.2 cubic feet, you'll have plenty of room for your essential amenities. The cargo area also includes a foldable floor and a power-operated tailgate, standard.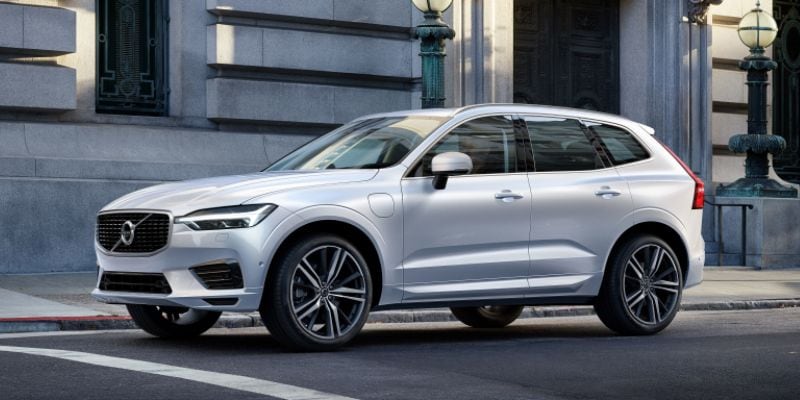 The Volvo XC60
The Volvo XC60 has the luxury of more space than the Volvo XC40 does with 63.3 cubic feet of storage capacity. Five supportive seats are designed to ease the burdens of longer trips for Atlanta passengers as well. One of the most impressive features about the Volvo XC60 is the powerful available gasoline/electric powertrain. A fantastic, 59 MPGe Plug-In Hybrid helps deliver a fuel-efficient ride, while the T8 Twin Engine delivers a combined 400 horsepower.
The Volvo XC90
The Volvo XC90 is the largest SUV, seating seven-passengers, that Volvo has to offer. It's ideal for the larger Atlanta family as in addition to space; it has 85.7 cubic feet of cargo room to take advantage of. When combined with the T8 e-AWD Plug-In Hybrid, an electric and gasoline engine delivers an astounding 62 MPGe.
Volvo S60
A stellar sedan, the Volvo S60 is inspired by Scandinavian influences which helps possess an assured luxury visible to any Atlanta residents who happen to glance its way. It's tailored to be strikingly appealing while possessing the interior luxury to keep you comfortable. It has a nine-inch Sensus touchscreen for connectivity, and a multitude of engines including the T8 Twin, as well as Drive-E Powertrains with supercharges and multiple driver modes.
The Volvo S90
In Momentum and Inscription trim, you can take your Volvo S90 to new heights with chrome highlights, linear walnut inlays, and leather upholstery if you have a taste for luxury within the Inscription trim. Further, the Inscription trim has a four-zone electronic climate control system, a 12.3-inch Digital Driver Display, and a Panoramic Moonroof to fully capture the Atlanta night sky. Larger than the Volvo S60, the Volvo S90 offers more space and the same power with the T6 and T8 powertrains.
Here at Volvo Cars of Marietta, we do more than supply new Volvo models, as we also have a robust collection of used and certified pre-owned vehicles. With plenty of selection, and great savings available, Atlanta drivers can find a great deal on used Volvo models or cars from another brand when they visit our Marietta dealership.
We hope Atlanta drivers take the time to visit us and expand their horizons with the prestige of a Volvo luxury model.