Volvo Cars of Marietta

Compare New Volvo Cars

Volvo Sedans and Wagons Offer Many Choices
Volvos are favorites for drivers in Marietta because they set the standard for style, comfort, and superior engineering. Whether you choose an SUV, sedan or crossover wagon, you know to expect quality inside and out. The only question is which one to choose. Let's explore the choices in sedans and wagons.
Volvo Sedans
| | | |
| --- | --- | --- |
| | Volvo S60 | Volvo S90 |
| Starting MSRP | $36,050 | $50,300 |
| Horsepower | 250 to 316 | 250 to 400 |
| Est. Highway MPG | 36 | 32 to 72 |
| Cargo Capacity | 13.8 ft3 | 13.5 ft3 |
| Hybrid Option | No | Yes |
| Base Engine | 2.0L 4-Cyl Turbo | 2.0L I4 Turbo |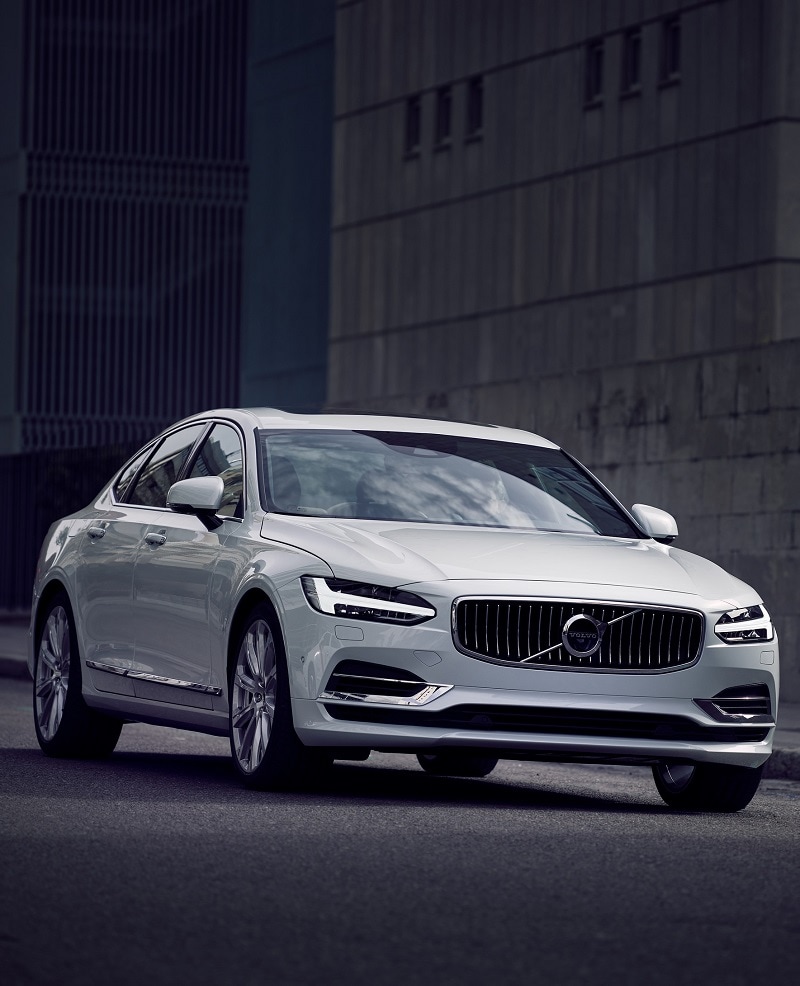 Performance
Volvo sedans are a popular choice because they are economical and offer excellent performance. The sedans include the S60 and S90. The S60 is the more moderately priced of the two. It offers the economy and performance in the T8 plug-in hybrid. This model makes a great daily driver around Atlanta, but you can also choose the powerful 2.0-liter direct-inject turbocharged four-cylinder engine that delivers plenty of power. This engine manages to get up to 36 MPG highway.
The S90 is a bit roomier and has a few more perks. You can get more power with a selection of engines that use both turbocharging and supercharging for responsive performance. You also get comfortable first-class seating with plenty of room. You can enjoy a standard panoramic moonroof for natural light.
Technology
The nine-inch Sensus Touchscreen is laid out in a clear format with graphics that mean you do not have to scroll to find what you need, allowing you to keep your eyes on the road. You can also use the navigation, phone, climate control, and media using natural speech.
Trims
You can choose the S60 in the Momentum, R-design, Inscription, and Polestar Engineered models. The S90 is available in the Momentum, R-Design, and Inscription models. You can choose one that is comfortable, sporty, or luxurious to suit your tastes. Whether you want the S60 or S90, the exterior has sculpted accent lines and a comfortable interior. Volvo gives you many choices when it comes to selecting a sedan that you can design to suit your style and needs.
Volvo Wagons
| | | |
| --- | --- | --- |
| | Volvo V60 | Volvo V90 |
| Starting MSRP | $39,650 | $52,550 |
| Horsepower | 250 | 250 to 316 |
| Est. Highway MPG | 31 | 31 to 34 |
| Cargo Capacity | 23.2 ft3 to 50.9 ft3 | 19.8 ft3 to 69 ft3 |
| AWD | Yes | Yes |
| Base Engine | 2.0L I4 Turbo | 2.0L I4 Turbo |
Utility and Space
Volvo sedans are a great choice if you need something for the daily commute around Marietta, but if you need more cargo space for adventures or family outings, a crossover wagon might be more to your liking. Volvo wrote the book on crossover wagons and still stands out among the competition. The V60 and V90 Cross Country crossovers are rugged and still have a refined and luxurious style.
The V60 and V90 can both seat five and offers plenty of room for passengers. The V60 has 60.5 cubic feet of cargo space, and the V90 extends that to 69 cubic feet. They both have standard all-wheel-drive and 8.3 inches of ground clearance. Both of these models have advanced connectivity technology, including the Sensus Touchscreen and Smartphone app.
Trims
The V60 is available in the Momentum, R-Design, Inscription, and Polestar Engineered trims levels. The V90 is only available in the R-Design and Inscription trims. Both of these models were built with the driver and passengers in mind. The controls are within easy reach, and the interiors are stylish and modern. The wagons offer luggage racks and efficiently designed cargo space.
Technology
Whether you choose a sedan or wagon, you will want to explore the Volvo On Call app. This app lets you warm-up or cool down your vehicle from your Smartphone. You can also send planned journeys to the navigation system so that you are all ready to go when the time comes. This system can also allow you to start your car remotely. You can even have deliveries sent straight to your vehicle.
What's New for the 2021 Volvo V90?
The latestVolvo V90 model brings with a series of updates that promise to further refine both your driving experience and the overall look of this luxury station wagon. For starters, the exterior gets a subtle update that includes a reprofiled front bumper with more curves and less harsh angles. The headlights also feature a more swept back design to accommodate the new contours, while new fog lights compliment the updated design down below. A new roofline and rear hatch design are also included for 2021, but once again you'll be hard-pressed to pick out the differences unless you're looking at a '21 and '20 model side-by-side.
Inside the new Volvo V90 you'll find an updated cabin filtration system that improves the air quality in the cabin when taking in air from outside, which helps keep the interior feeling fresher for longer, even if you frequently drive in heavy commuter traffic. In addition, the available Bowers & Wilkins Premium Audio system gets updated speaker shapes for 2021 to improve the depth and clarity of your sonic experience whether you listen to music, podcasts, or talk radio while you're on the road.
What are the Current or Future Hybrid/EV Options for the Volvo V90?
The current Volvo V90 lineup does not include any electrified components. You'll find a 2.0-liter turbocharged four-cylinder engine that produces 250 horsepower and 258 pound-feet of torque, along with a turbo and supercharged four-pot that gives you 316 horsepower and 295 pound-feet of torque, and both engine are available with all-wheel drive.
However, future versions of the Volvo V90 could be fitted with the 402-horsepower electric powertrain that currently sits in the Volvo XC40 Recharge, or the T8 Plug-in Hybrid that pairs an electric motor with the dualcharged combustion engine to deliver 400 horsepower, 472 pound-feet of torque, and up to 20 miles of EV range in the city.
Test Drive One of Our Volvo Vehicles
Volvo builds sedans and wagons that are built around real lives and the things that people need to do as they go about their business. That is why people continue to choose Volvo as their favorite ride. Now that you know some of the sedan and wagons that Volvo Cars of Marietta might have in stock, and the only real question is which one is right for you.