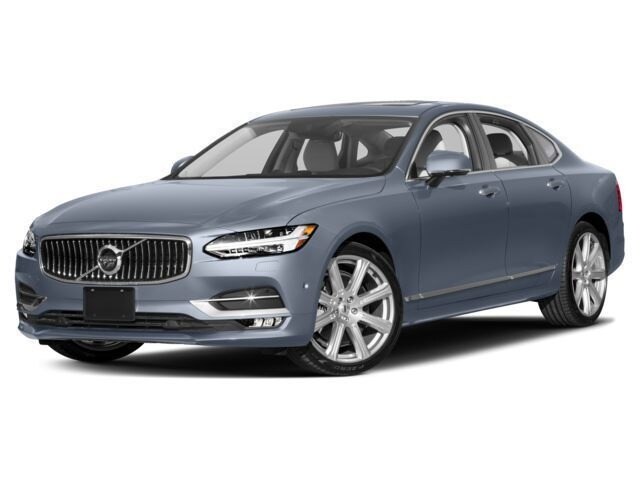 The 2018 Volvo S90 is Available to Lease from Volvo Cars of Marietta
For luxury, innovative technology and impressive handling in a full-size sedan, there's a lot to love about the 2018 Volvo S90, also available in the T8 Hybrid. Its Scandinavian design, elegant interior, and top-of-the-line technology make it the kind of car dreams are made of. Its serene cabin is crafted from high-quality materials like authentic crystal and Flame Birch Inlay. And its chassis delivers precise handling and welcome comfort. The 2018 Volvo S90 now has an additional 4.5 inches of legroom for extra stretching space and more standard safety features than most vehicles in its class. Its long wheelbase and low roofline combine to create a crisply sculpted exterior. The Volvo S90's aerodynamic shape and signature grille are sure to turn heads and its panoramic sunroof gives you a spacious view of the sky and extra light in the cabin. A three-spoke steering wheel wrapped in hand-stitched leather with a uni-deco trim adds to the finely crafted feel, and a leather-clad gear knob adds a luxurious finishing touch. A two-zone electronic climate system comes standard with the 2018 Volvo S90 and an available Bowers and Wilkins premium sound system gives you concert-like sound. A park assist camera and a Volvo navigation system come standard with the S90, while Park Assist Pilot and Front Park Assist are available options for even more confident driving. Safety comes first with Volvo, and automatic braking, driver alert control, city safety collision avoidance technology, Lane Keeping Aid and brake pedal release are all standard on the 2018 Volvo S90. Volvo Cars of Marietta is proud to offer drivers in Atlanta and Smyrna, GA, a wide selection Volvo S90 sedans available to buy or lease from our vast inventory. Here on our website, you can sort through them by price, model, and color to find the one that suits you best.
Leasing a 2018 Volvo S90 May Be the Best Option for You
Once you've picked out the Volvo S90 that pleases you the most, the next step is to decide how you want to finance it. Many people choose to lease a new Volvo, because:
With a lease, you can have lower monthly payments, since you're paying for only the vehicle's depreciation throughout the term of your lease.
      
Short-term lease options let you return your vehicle at the end of the lease and get a newer model, which is a great option for those who want to keep up with the latest Volvo design, features, and performance.
        
Leasing a Volvo can simplify maintenance. If something were to go wrong with your Volvo S90, the repairs are generally covered under the lease plan. You can even arrange to have free routine scheduled maintenance included in the term of your lease.
Whether you choose to buy or lease, drivers from Marietta and Kennesaw, GA can discuss your vehicle needs with us and we'll help determine the right finance package for you. We'll crunch the numbers to get you the best finance plan for your budget. Come to Volvo Cars of Marietta and test drive a 2018 Volvo S90 today.
Sorry, no items matching your request were found.
Reset Search